Education News Update

LIFE AT THE UNIVERSITY OF QUEENSLAND
I studied for five years at the University of Queensland (UQ) and completed a dual degree program in Bachelors of Arts/Laws. Examination periods aside, I enjoyed every minute of my time at UQ.
For an idea of what student life is like at UQ the following YouTube video might be helpful.


I studied at the St Lucia, Brisbane campus which is located on the Brisbane River and only 7 km from Brisbane's city centre. Its sandstone buildings nestle amongst 114 hectares of parklands, lakes, sporting fields, tennis courts and Olympic sized swimming pool.
My friends are I were a fairly studious bunch. We attended all lectures and tutorials and dutifully revised our lecture notes and read case law in the TC Beirne School of Law.
It wasn't all about studying though. We also attended great social events like movie nights, pool parties and barbeques. We met for lunch at the "rec" club (which I understand has now been relocated and renamed "the red room") and we ate copious numbers of burgers at the tennis club during study leave.
I recently re-visited UQ's St Lucia campus and was blown away by the number of new buildings, auditoriums, art galleries and updated library facilities.
You too can attend UQ as an international student.
My top three picks for international students keen to enrol at UQ are as follows:
STUDY ABROAD
Consider the Study Abroad option if you have completed at least one full-time year of study at your home university, and meet UQ's academic and English language requirements.
As a Study Abroad student, you can study at UQ for one or two semesters and choose from a wide range of courses which can include lectures, tutorials, industry placements and field trips to Fraser Island, the outback and UQ's marine research stations in Moreton Bay off the coast of Brisbane and Heron Island on the Great Barrier Reef.  Credit for courses you successfully complete at UQ is normally transferable towards your degree from your home university.
POSTGRADUATE LEVEL OF STUDY AT UQ LAW
Overseas Law graduates can select postgraduate level courses from a course list of some 80 subjects across all specialist legal areas: Corporate, Commercial, Estates, Litigation, Alternative Dispute Resolution, Science and Technology, Environment, Energy & Resources, Public Sector, and International Business.
Postgraduate study at UQ Law offers amazingly flexible remote study arrangements (intensive   mode courses of 4 days duration) as well as 6 week internship options.
Free legal English classes are available to international students.
SCHOLARSHIPS
UQ offers great scholarship opportunities to international students.
Europe – Australia UQ Excellence Scholarship
Gifted students from Europe seeking to undertake postgraduate study can receive a 100% tuition fee waiver for up to 3 semesters for a postgraduate Business, Economics, Law or Tourism program (excluding MBA).
School of Economics Centenary Scholarship
Gifted students can receive a 100% tuition fee waiver for a three year Bachelor of Economics program at the UQ School of Economics, plus a living allowance of AUD$20,000 per year, one return economy airfare from your home country and a one off book allowance of AUD$500.-
UQ is in the top 100 universities worldwide and is a founding member of the Group of Eight (Go8).  The Go8 is a coalition of leading Australian universities that excel in research and education. Go8 members include the Australian National University, the University of New South Wales, the University of Adelaide, the University of Melbourne, the University of Western Australia, Monash University and the University of Sydney. CRICOS provider number 00025B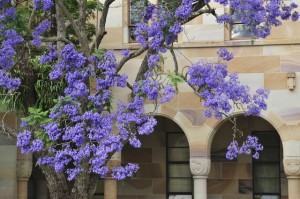 Jacarandas in bloom at UQ St Lucia campus
Buildings at UQ St Lucia campus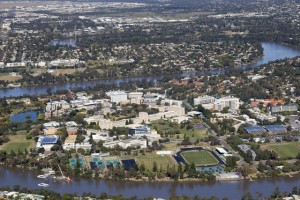 Aerial view of UQ St Lucia campus